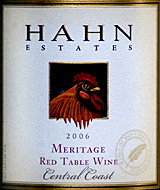 The bottle contains a darkly garnet wine that goes deep reddish-violet on the edge. The bouquet reminds one of a good Claret wine from the Bordeaux region of France as it combines the scents of dark berries and tart cherries with a hint of Cabernet blackcurrant. The aroma also contains some oak, giving the wine faint hints of chocolate and vanilla.
This table wine fills the palate with cherry fruit that contains just the right amount of acidity, which is not a given in a Central Coast wine. The taste also has soft tannins and a hint of warmth, thanks to its 14.5% alcohol content.
With this kind of bold wine, expect it to go well with uncommon meats like lamb, game, or even buffalo. Costs US$17.99.
Tags: 2006 wines, california red table wine, california red wine, central california red table win, central coast red table wine, central coast red wine, hahn estates 2006 central coast meritage red table wine, wines below $20